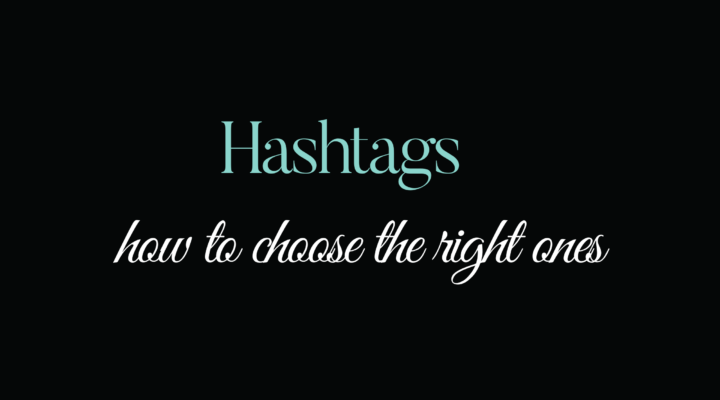 Hashtags
How to choose the right hashtags for your social media?
The very first hashtag that was ever used in social media was the hashtag #barcamp. Chris Messina, a social technology expert used this hashtag in 2007 on the platform Twitter. His intention behind that was to gather discussions and online exchanges referring to Barcamp, which describes a technology unconference gathering activity. From then on, social media users recognized the benefit of hashtagging and the idea of categorizing information that is posted on social media took off. Today, hashtags are used for various reasons and by all different kinds of social media users. Not only personal accounts but also major companies use hashtags within their social media strategies. It helps them to acquire new followers and increase brand recognition.
To create successful posts on Instagram, a well-thought-out strategy is crucial. Based on the quality of the image, the caption, the hashtags, and the number of followers on your account, the Instagram algorithm will decide if your post is relevant and visible on the Instagram discovery page.
In the following you can find all the relevant information about hashtags and some insights on how to use them properly to step up your Instagram game!
Why is choosing the right hashtags so important?
With over 500 million daily active users and 200 million accounts accessing Instagram's explore page every day, a sophisticated hashtag strategy is essential to stand out from the competition.
Hashtags help you to build your brand, push marketing campaigns and generate more engagement on your account. They are also a great tool to connect with your audience and to reach new people who might be interested in your content.
Instagram users can use specific hashtags on Instagram Search to find information about specific topics, companies, or people. If a user decides to follow that hashtag, they will automatically see posts with that hashtag in their feed.
How many hashtags should you use?
You probably know that hashtags have a big impact on the organic reach of posts. But does that mean, that your account visibility will increase the more hashtags you use?
Recent studies show that this is not always the case. It mainly depends on the number of followers on your account. Small accounts (up to 1000 followers) get the most interactions with 10 or more hashtags, medium accounts (from 1000-10,000) are more successful with 1-3 hashtags. You will be surprised: larger accounts with 10,000 or more followers also perform best with more than 10 hashtags.
Accounts with more than 100,000, on the other hand, are most successful without using any hashtags.
What kind of hashtags perform better?
The most commonly used hashtag on Instagram is #love. Using very generic hashtags however, will not get you more visibility because the competition is too high. The latest trend is to focus more and more on niches. We definitely recommend you to follow this strategy. The key to reaching a larger audience is to use less competitive hashtags but more specific ones, that explain your posts best. For example, when you travel to a specific destination or you want to post something about the hotel you're staying at, you should use the fitting hashtag e.g. the name of the hotel or travel destination. The chance that people who are interested in this exact destination stumble across your post gets a lot higher. Be as specific as possible because when talking about hashtags, relevancy is more important than popularity.

But what exactly are the kind of hashtags that work best? The answer to that question will be different for everyone. It very much depends on many factors, for example the number of followers of your account or the language that you use in your posts. Hashtags that are used between 50 and 300,000 times work best for most people. That's because the risk of your post being swallowed up by a large number of other posts linked to the same hashtag is not as high.
Different types of hashtags
Another aspect that you should consider when searching for the best performing hashtags: There are different types of hashtags. Community hashtags for example are great for connecting with a specific target group, to increase your searchability and to grow your own community.

Branded hashtags on the other hand are only used for your brand, for example your brand name or your slogan. A tip on the side: Most people would rather use #MyCalvins rather than #CalvinKlein
When promoting something rather short-term, like the launch of a new product or a special event, you should rely on campaign hashtags because people can find the content that they are looking for much easier.
In general, we can say that hashtags that are used intentionally are the ones that perform best.
You should always ask yourself the question: What keywords would you search for? What hashtags would you follow if you were interested in that specific topic?

One big misconception about hashtagging is that people tend to think that reusing hashtags in multiple posts is bad for your algorithm. That is not entirely true. You shouldn't use the exact same hashtags for every single post. In case you have already found your strongest and most targeted hashtags, you should definitely stay consistent and use them again. Ideally mixed with more specific and individual hashtags.

Our recommendation: Analyze the performance of your hashtags in each post with Instagram Insights stats, they can reveal how many views you have achieved with your hashtags.
How to choose the right hashtags?
A few years ago, no one would have thought that hashtags would become so important and really can make the difference in your marketing strategy. Instagram posts that use hashtags get 12.6% more engagement than posts without hashtags. The art of hashtagging isn't just about putting a # sign in front of the words you're using.
Here's a quick guide to choosing the right hashtags for you.
Know your target group
Which hashtags work well depends on your target group. If you only use the "big" hashtags, you will quickly get lost in the crowd. We recommend a mixture of well-known hashtags, as we have listed them here in the article. This enables you to reach the right target group.
Check your competition
There's absolutely nothing wrong with spying on your competition from time to time. In fact, when it comes to hashtagging, this can be a very useful method of investigation.
Create your own hashtag
The great thing about hashtagging is that you're not limited to using other hashtags that have already been used. You can get creative and create a campaign around your very own hashtag. This will help your brand gain visibility and connect with your audience.
Remember the unforgettable #IceBucketChallenge? The ALS Association marketing team was able to not only raise awareness for the disease (amyotrophic lateral sclerosis, known as ALS) with this hashtag campaign, they also raised over $200 million.
Using hashtags is an important part of a strong Instagram marketing strategy. By following best practices, you can increase your number of followers and leads coming from Instagram.

Happy hashtagging!
YOU DON'T WANT TO MISS ANYTHING MORE FROM US?
Feel free to follow us on LinkedIn and Instagram.
And visit our News page for more blogposts.