A small glimpse
Discover the success stories of our clients and let yourself be convinced by our achievements.
Please note that out of loyalty and confidentiality towards our customers, we do not publicly showcase all of our projects. Especially specific and extensive projects or campaigns are a matter of trust for us. If you are interested in explicit references and cases from a particular field, feel free to approach us about it.
What our ClientsSay about us
We have employed Miriam Ernst from the strategic social media inception through implementation, all the way to weekly content planning and production. Miriam and her team are incredibly professional, creative, and service-oriented. We have frequently requested them to create internal slides for us – and everything was done in a very management-friendly manner. She even conducted internal presentations and workshops. I would hire her again anytime.
Miriam was fantastic at bringing structure to our social media planning. She is highly customer-oriented and incredibly flexible in adapting our workflow to fit us and our company best. Her team is also very professional and always ready to assist with all our inquiries, provide creative input, and suggest new ideas. I felt very comfortable and relied on all the great industry advice we received from Miriam and the team. I definitely recommend their services.
I would like to sincerely thank the entire team at Miriam Ernst Consulting. The Instagram presence now appears organized and highly professional. It's evident that the team invests a lot of thought into the structure, content, and presentation. They consistently come prepared for discussions and are attentive to how competitors are operating, making adjustments to their work as needed. I want to extend a special thank you to Ms. Ermakow, who displays remarkable patience during the challenging shoots and always assists me in quickly overcoming any nervousness.
Miriam Ernst served as an external consultant for our social media channels at our Business School. Her concept for the social media channels of the Steinbeis School of Management and Innovation, along with her expertise in the field, greatly impressed us. In a very short time, she was able to significantly increase the engagement rate, especially on our Instagram channel. As a Business School catering to a national audience, predominantly represented on Instagram in terms of age, we focused our efforts on this platform for 2019/2020. Miriam was responsible for developing the channel strategy and the monthly editorial plan, and she coordinated content procurement and creation through her team. This ensured the necessary consistency in postings while aligning with our strategic goals. Working with Miriam was highly professional and enjoyable. I can recommend Miriam to anyone looking to (re)align their social media channels strategically.
I met Miriam as part of an event manager research. The original idea was to conduct round table discussions with clients and potential customers in three to four to five cities in Germany and Switzerland. With all of her experience in the field of strategic event planning and conceptualization, Miriam quickly convinced me that with a brand like billwerk and centered around the digital trend topic of subscription business models, much more is achievable. After just 4 months of conceptualization, planning, and preparations, a one-of-a-kind event emerged in Europe – the Subscription Leaders Summit. Across 7 stages, over 20 top speakers provided more than 140 participants from all over Europe with state-of-the-art practical knowledge for 8 hours. The fact that this ambitious and complex endeavor resulted in a unique event that remains inspiring in the memories of many attendees to this day is thanks to her efforts. Thank you for that, Miriam.
Miriam Ernst has been/ is working in our agency, Ansel & Möllers GmbH, as a freelance consultant in the field of social media and influencer marketing. She has enriched our content marketing strategies with valuable advice regarding channel architectures. We were able to deploy her for various clients in the B2B and B2C sectors. She independently executed the projects with a keen sense for A&M wording and controlled them based on her excellent expertise. Internally, she contributed to the further education of our team and took over our "Campus" events with digital topics. We always perceived Miriam as "part of the team," not as an external consultant. In this capacity, she also participated in our client meetings and strategy workshops. Therefore, my recommendation rate: 100%.
Collaborating with Miriam on the LinkedIn content and strategy for a client was enjoyable, inspiring, and effective. Miriam was the strategic mind within our team, taking charge of crafting strategies with professionalism. Whether it was about merger strategies, LinkedIn training, or infusing constantly fresh, new ideas into strategic meetings, she left no room for doubt regarding her competence, digital expertise, or professionalism. If you're in search of an expert for strategically aligning social media channels, then Miriam Ernst is the right person for you.
Miriam hat Social Media Marketing und SEO für uns umgesetzt und uns bei Aufgaben rund um das digitale Marketing beraten. Sie ist ein unkomplizierter Mensch, hat einen soliden Hintergrund in den vorher genannten Themen und hat dem Chemster/ozmi Marketing einen großen Mehrwert gebracht. Darüber hinaus war es immer ein Vergnügen, mit Miriam zu arbeiten - empfehlenswert!
To prepare for the trade fair appearance at ITB Berlin 2020, I commissioned Miriam Nadja Ernst to coordinate appointments with potential new business partners in Europe. Due to the COVID-19 crisis, the largest travel trade show in Europe was canceled at short notice. Miriam carried out her tasks very independently, professionally, and punctually. Miriam is an open, communicative personality who performed her work to my complete satisfaction. I hope that this preparation will have a positive impact on Aryaf Jibreen Tourism after the hopefully overcome pandemic. I wish Miriam all the best and much success, both personally and professionally. Mohammed
Miriam did an excellent job as one of the managers responsible for the premium hospitality service at the Euroleague Final Four Berlin 2017. She demonstrated outstanding event planning and management skills, problem-solving abilities, and a strong rapport with corporate and VIP clients.
Both the social media analysis and the subsequent strategy provided numerous valuable and practical tips. This will enable us to address our target audiences at juunit more effectively and post content tailored to each channel. Many thanks to Miriam Ernst and her team for the professional support.
I worked together with Miriam Ernst and Violetta from their team for the opening of the docboom practice in Frankfurt. I can highly recommend Miriam Ernst Consulting. Both of them are extremely helpful!
The team at Miriam Ernst Consulting provided us with advisory support on the topic of social media and subsequently executed the planned measures excellently. Through a combination of high-quality content and running advertisements on the social media platforms Instagram and Facebook, we were able to significantly increase our reach. We are very grateful for the competent team, the customized solutions, and the insightful input. Communication went smoothly, and our questions were promptly addressed, with even short-notice requests being swiftly implemented. We are happy to recommend the agency Miriam Ernst Consulting to others.
It's an absolute pleasure to collaborate with Miriam and her team. We engaged MEC for our Go-to-Market campaign when we launched our platform and are very satisfied with the results. Miriam's team supported us in all aspects of social media strategy and channel management, as well as in creating emails and content. Miriam and her colleagues possess profound expertise and a fantastic "get-it-done" attitude that has assisted us in every way during the launch. Best regards, Arianna
My experience with the Miriam Ernst Consulting Team was of short duration, but even in these few months, I could observe how professional and passionate each team member is. If you are seeking assistance with growing/building your LinkedIn page and creating social media content, reach out to them!
If you are interested in explicit references and cases from a specific field, please feel free to approach us regarding that.
What you should know about us...
We are competent, thorough, fast, authentic, and motivated. Working with us is also fun – at least that's what our customers say 🙂 . It's only the industry we haven't decided on yet: We excel in lifestyle, cosmetics, fashion, medical technology, tourism, automotive, and much more.
As the Best Creative & Professional Content Consultant 2022 by the German Business Awards 2022.
This coveted award recognizes the exceptional achievements of companies in Germany and motivates us to continue delivering top-notch consulting and content, consistently exceeding our clients' expectations.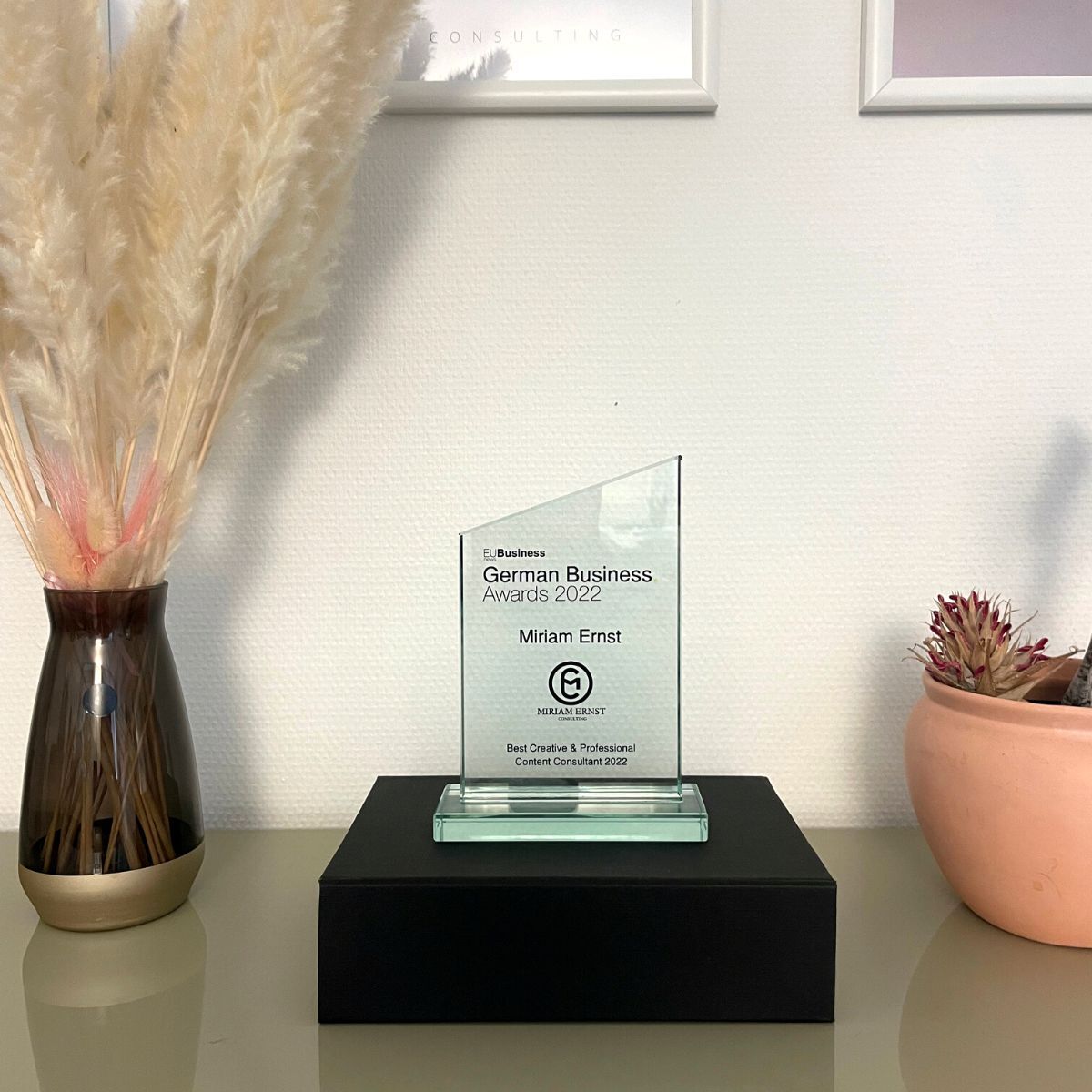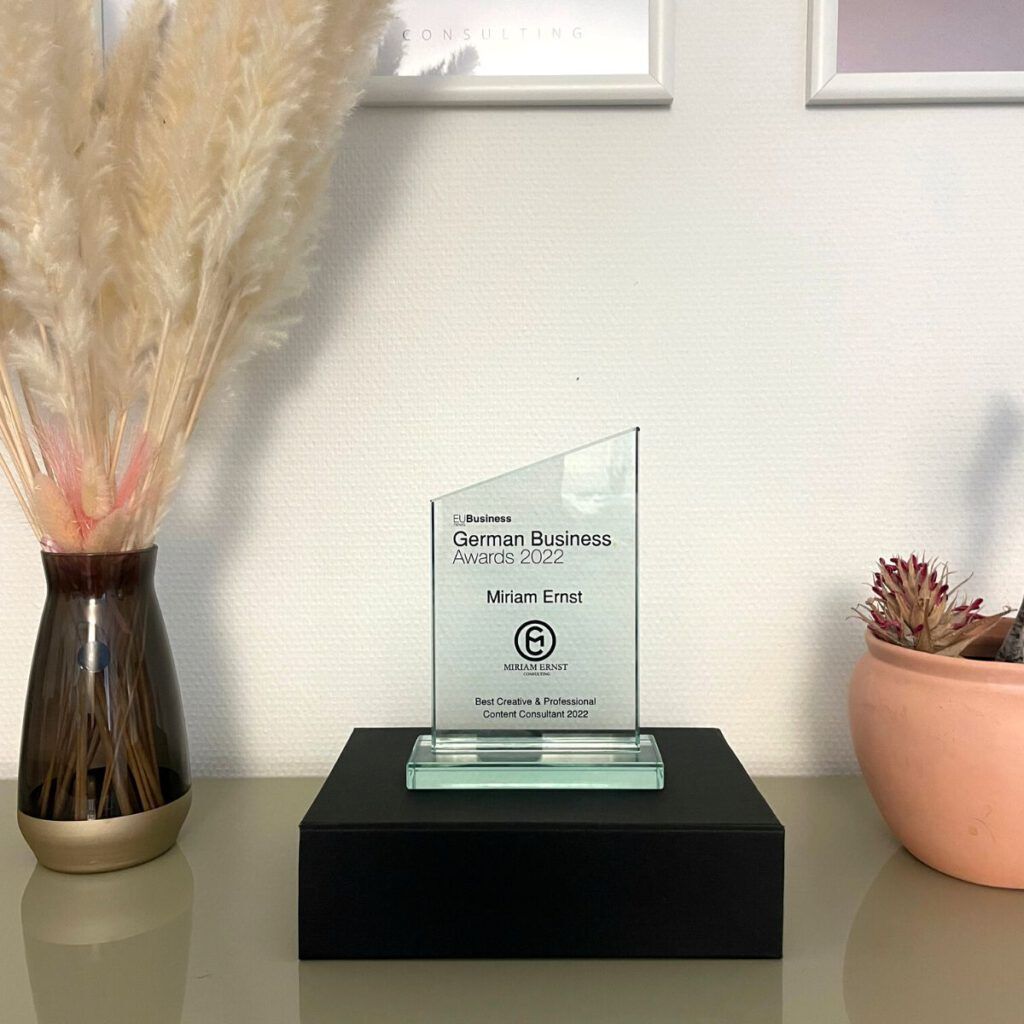 For all inquiries, please fill out the form, and we will get back to you. We look forward to answering all your questions.
Adress
Miriam Ernst Consulting
Fellnerstrasse 7 – 9
60322 Frankfurt am Main, Germany
Opening hours
Monday – Friday 09:00 am – 18:00 pm Saturday – Sunday closed