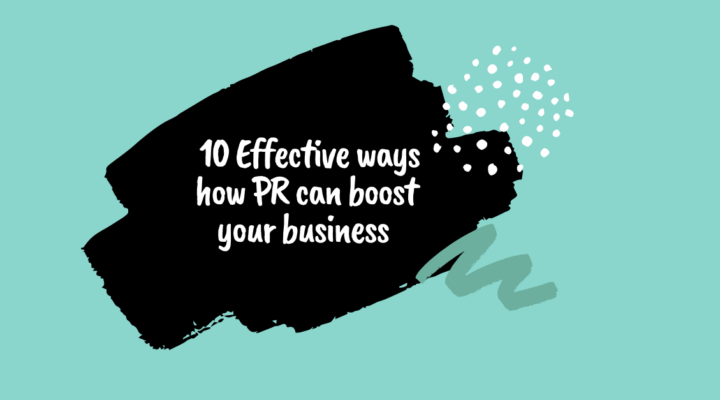 10 Effective ways how PR can boost your business
Your dream has become reality-your own company has been founded, the branding has already been established and, ideally the first employees have been hired. It's about time to start to make good PR in order to gain public recognition as quickly as possible.
Effective PR is essential for this!
In this short article, we will share with you 10 effective ways how PR can boost your business.
1. Let your company go public! – As usual with a press release
It is important that the media and the public as well, get to hear as soon as possible about your business. The best way to catch their attention is to create a press release with the most important information about your company and then send this to a press distribution list (see Point 2).
Whenever important new products, news or information's are added, publish additional press releases to communicate the news to the public as soon as possible.
2. Create your individual press distribution list
The press release is ready– now it's time to send it out. A press distribution list must be structured well and should be directed at your target group of media. So, before you go ahead, choose the media wisely and also compile a distribution list which suits your company in the best way possible.
You can also send press releases via existing online press portals. Nevertheless, it is important to establish and maintain personal contact with journalists. Additional tip: Attend as many network events as possible and, after getting to know the journalists personally, build up your own press distribution list from your collection of business cards. In exchange, leave your new contacts a press kit. (See point 3)
3. Your figurehead- the press kit
With a well-prepared press kit, you can draw attention to your company at events and trade fairs. Your press kit should contain a general factsheet and additional information and also images of your company.
Additional tip: Provide your press kit also as a digital version on a USB stick and/or develop a QR code. This not only shows your digital knowledge, but also saves you a lot of paperwork. Which as we all know, ends up in the trash bin anyway.
4. Use storytelling!
An essential stylistic device of PR is storytelling!
Use storytelling as a stylistic device to spice up information about people, products or your entire company. Storytelling awakes your news to life and effectively builds a long-term bond with your customers.
5. PR 2.0 – Be present on social media
Nowadays, it is hard to imagine life without social media. Companies can also benefit from it and should show their presence on social media. If a company is not present on at least one social media channel, it is no longer considered up-to-date and advanced.
Keep in mind that you should choose the right social media platforms for your company, because not every channel is suitable for every company. Make your choice based on your target group, which you should have already defined in your social media strategy.
If this area is new to you or you don't have enough capacity, hire a social media manager, because a good social media presence contributes a lot to your company's image!
6. Pitch professional articles to magazines!
A good way to gain exposure in the media world and the public is to pitch a professional article on a specific topic where you can position yourself as an expert to various media such as magazines, radio, podcasts or TV.
To stay up to date – catch up on the latest news by reading trade journals in your business sector. Also, you can get in touch with authors on a topic that suits you by requesting an interview or guest article that could provide interesting added value for your medium of choice.
7. Attract with Competitions!
A PR tool that always works well in order to be remembered by consumers and to become better known is, to incorporate competitions. They could be in form of cooperation's with magazines or on your company's social media channel. Depending on the medium, the competition can also be linked to an article.
8. Use free downloads, infographics or whitepapers for advertising!
This is a great way to promote your company and its web address. Provide infographics or whitepapers in the form of free downloads on an expert topic of your choice. Therefore, more potential customers will be attracted to your company website!
9. Organise events and network!
Invite potential clients and journalists to a network event organised by you. This way you can build trust on a personal level in a great location with drinks and nibbles in a relaxed atmosphere. After the event, you do a follow-up and thank the participants by email, thus creating the basis for future possible cooperations.
10. Apply as a speaker and score points with keynotes!
Presentations in the form of keynotes at panel discussions or online conferences, for example, are an ideal opportunity to prove your own competence and draw potential customers' attention to your company. Promote your keynote in advance, for example on your social media channels with a link to the event, to reach as many people as possible and make them aware of your talk.
These 10 ways can not only get you an awareness in the short term, but help your business build good PR in the long term.