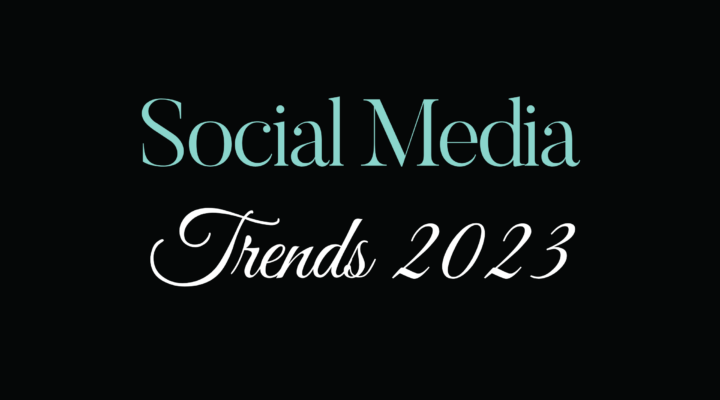 5 Social Media Trends for 2023
Social Media Trends 2023 – It's that time of the year! As 2022 is coming to an end, it's time to look at the upcoming updates regarding the world of social media. To be at the top of the social media game, brands should consider the trends since social media remains the most important communication channel between seller and consumer.
Looking forward to 2023, however, we can already identify specific trends in the social media sphere. Let's take a closer look at these.
What are the social media trends for 2023?
1. Authenticity 2.0
The popularity of TikTok and the still-improvised App BeReal has proven that users prefer content that offers real-life documentation. Instead of glossy profiles, authentic glimpses into real life have become much more interesting.
Authentic content, posts shared in real-time, personalities, and people with whom social media users can identify have become not just an expectation but a requirement in 2022.
For 2023 and the following, the consumer's need for brand authenticity will become even more significant. Also, this preference will be increasingly reflected in Instagram's aesthetic as flash photography and filter-free images become more popular. Any photo dumps from everyday life (either in carousel or reel form) will have priority over more traditional "Insta" content.
2.

Speaking of Authenticity – Sustainability becomes a Must!

The brands position on the topic of sustainability is more in demand than ever. Especially younger users are looking for environmentally friendly alternatives. Sustainable consumption is therefore moving to the center of attention and becoming an enduring trend.

Companies should respond to this and communicate transparently with their customers. Greenwashing should be avoided. Otherwise, a sh*tstorm might follow. Honesty, transparency, and authenticity are what brands need to look out for.
3. TikTok…but better!
TikTok has not been a new player on the market for quite some time now. Still, the app manages to make headlines and break records again and again. Once belittled as a dance app, then a voiceover app, it is now a force to be reckoned with regarding its 30.8 million daily users.
Many brands still make the same mistake on the platform: Instagram content is being posted 1:1. Moreover, the same strategies are used on both platforms.
In 2023, brands will have to step up their game if they want to make their mark on this still-fertile terrain. It's critical for brands to accept the premise that content on TikTok is for entertainment rather than advertising. The sooner they adapt their content and presence on TikTok, the better.
4. Interactivity is required
Engagement is one thing. Now the social media algorithms want something new: interaction. To bring the "social" back to social media, new opportunities for brands are being created by social media platforms. This creates a two-way dialogue with their followers. Those who use the opportunities well will be rewarded with reach.
Whether it's reaction stickers on Instagram or the increasing prevalence of video stitching on TikTok – 2023 clearly calls for a more interactive content approach from brands using the platforms.
While this may sound like another worry for brands, these new features provide a perfect opportunity to build and maintain real relationships with their target audiences. Now, everything can be done with a much lower investment than in previous years when brands still had to respond to individual comments.
Introducing regular Q&A sessions in posts or reels can be a great way to make users feel heard. At the same time, this type of content can give users the opportunity to respond to questions that help to highlight the benefits of a product or service.
At a time when users are critical of the huge number of ads on social media platforms, this is an great opportunity to make the brand stand out from the crowd.
5. Social Media Shopping
In 2023, even more, shopping will be done via social media instead of regular websites and online shops. The convenience of ordering faster with a single click is coming true through social media shopping. Especially attractive platforms here are Facebook and Instagram.
Now, e-commerce and online stores need to update their Facebook and Instagram stores to make them more attractive to users.
Social media trends 2023 – Our verdict
The message from platforms and users for 2023 is clear: "Keep it Real". Although this will manifest itself differently on various platforms – Instagram users are and will still be way more tolerant regarding aesthetic content. While on other platforms like TikTok brands will rather have to dig much deeper if they want to retain their audience, especially if they want to convert them to buyers.
It is to be expected yet which trends will ultimately prevail and dominate. We are very excited!
YOU DON'T WANT TO MISS OUT?
Or look at our News on our website to not miss out on anything new!