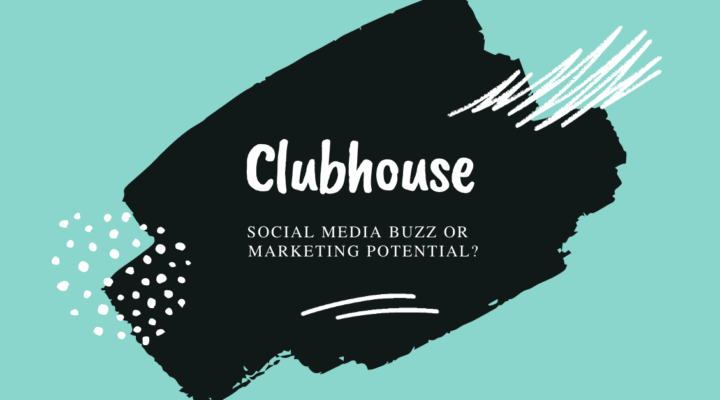 Clubhouse – social media buzz or marketing potential?
The hype is real- Clubhouse is currently the most-talked-about platform in the internet.
Despite being limited to IOS, quite restrictive access rules and a different approach to social media communication, the social media audio platform, origin from the US State of Utah is experiencing a boom in Germany and many other European countries. Even though the app launched in March 2020 and is just a beta version, it has already been valued at 100 million US dollars in 2020. Thanks to many celebrities, who also partly participate in the company, the app has gained a lot of traffic.
On this occasion, I would like to share my first impressions of the app with you.
But first, let's clarify what Clubhouse is actually about.
What is Clubhouse?
Clubhouse is a social media audio network, currently only available as an app for iOs devices. On this audio app the users can simply listen to conversations like a live podcast or actively participate via live audio in these discussions/conversations. It al feels very much like an audio-conference.
The Providers Rohan Seth and Paul Davison with the company Alpha Exploration Co define their app as "a new kind of social service based on language that enables people all over the world to talk, tell stories, develop ideas, deepen friendships and meet interesting new people".
How does Clubhouse work?
With its focus on audio only, and the possibility to speak on stage of other speakers, it is also called "drop-in audio chat".
User interactions take place via audio chat rooms that deal with a wide variety of topics. Everyone is able to create an event and determine its topic.
The handling of the audio platform is quite easy: Set up the account by uploading a picture, add select your area(s) of interest and perhaps link to your Instagram and Twitter accounts. That's all it takes. You can get started straight away.
Tipp: If you'd like to use Clubhouse as a pro add a personal description. This is different than any bio you usually have in social media apps. It is the only place where you can share something written about you and this place is also basis of how you can be found on the app. Therefore describe you and your goals on this app precisely and use relevant keywords!
You can find sessions and events, suitable to your needs listed in the calendar. The Participation only requires you to click on the event and you can start listening. On a side note, in order to see events, you'll need to start following speakers or topics!
An exciting approach of this app is, that by simply raising your hand, the moderator or host can bring you (as well as everyone else) on stage as a speaker. And voilà… the spotlight is all yours!
In order to ensure a pleasant experience, the audio chats are led by the moderators, who also determine who is allowed to speak and when. They are also empowered to intervene in the event of violations of the Clubhouse guidelines.
What topics are covered on Clubhouse?
Everything and much more! Of course, as you can image, I naturally focuse on my interests, marketing, fashion, travel, digitalization, and investments. But I quickly realized that there are also talks about sports, vegan life or anything else that comes to your mind.
How to get in?
Clubhouse is not open to the public yet. Admission is by invitation only.
On the first look it seems as if the entry is subject of strict regulations. But since every new user is handed with two more invitations (after a short while even 5), it means everyone will of course be served sooner or later. In addition, Clubhouse asks you to let people of the waitlist in, if their phone number is in your contact list. In this way you can easily expand your invitation list to a large number.
Advantages of Clubhouse
No more fear of video
The platform clubhouse is especially for people who are camera shy and prefer to express themselves verbally. But maybe the effort or the obligation to set up a podcast and then keep it up to date is not everyone's cup of tea. Especially for these people, Clubhouse now offers a good alternative.
Quick and easy access to experts
What I find particularly exciting is, that I can approach topics relatively unplanned (compared to podcast and radio).Discussions can unfold completely freely here.
Furthermore, you can easily find several experts and ask them questions.
Quick attention / expert status
Currently, the calendar still has a relatively manageable number of events in it. There is still enough room for your content. This means that even if you are not yet well known, you will quickly gain a lot of attention and listeners.
If you and your content are convincing, Clubhouse offers you a very good chance as an early adopter to quickly get more attention / expert status.
Possible disadvantages of Clubhouse
Only available for iPhone and iOS
As already mentioned, Clubhouse is currently only available via the Apple App Store. As far as I know, Apple is not involved in the start-up, so it can be assumed that Android users will also be considered sooner or later. Unfortunately, there no further information on when the Android version will follow.
Lack of clarity with too many speakers
Unfortunately, some events allow too many speakers. This can very quickly lead to confusion, as people speak in a jumbled manner and the whole thing loses its comprehensibility and quality.
Missing messaging function
The spam problem is definitely not present here, but easy contacting is not given either. You have to search up the person/speaker on other platforms to somehow get in touch.
What are the success factors of Clubhouse?
Uniqueness
There is currently no such social media audio network. This uniqueness is very rare these days. In my opinion, given the fact that its already in an advanced stage, not many players will follow. Or at least not that quickly.
Aspects of consumer psychology (FOMO)
Its not helping that we currently live in a lockdown and don't have so much to do or so many options at the moment. Also, the app conveys a very elite and unique status to the world. Which leads to FOMO (Fear of missing out) and the urge of people (me also) to want to join the app. In my point of view, this also is one of the reasons why its currently so successful.
To what extent can Clubhouse influence your marketing?
Expert status
Since basically anyone can become an expert on this app, Clubhouse is certainly another good platform to further substantiate one's own expertise or brand.
Addressing a new target audience
With every new platform there is also new potential. Through new followers you connect with their followers and so on, which ultimately leads to a larger target audience. This creates a new network and new target groups.
Linking with other social media platforms
Naturally, you don't want to let every x-likely user randomly comment on every topic. This can be easily circumvented by motivating them to ask questions about the topic for example, on LinkedIn. In this way, you can kill two birds with one stone – not only do you generate (new) followers on Clubhouse, but you also gain (more) LinkedIn contacts.
Are there company pages or groups on Clubhouse?
Company pages, as we know them from LinkedIn or Facebook, do not exist. Instead there are so called Clubhouse clubs. Apparently, they are still set up manually and approved by the creators, therefore they are not that easy to set up. Due to the current hype there is also a restriction. Everyone can only open one group and it takes a while until it can be used.
Will be Miriam- Ernst Consulting host talks on Clubhouse?
As a matter of fact, the first talk has been tested and we have already planned something exiting. Stay tuned!
My Conclusion
In my opinion, clubhouse has a lot of potential.
Of course, you have to look at the whole picture, apart from all the hype right now. Clubhouse offers a platform that can be used in B2B and B2C at the same strength and gives you the opportunity to jump in and be part of the fame of others.