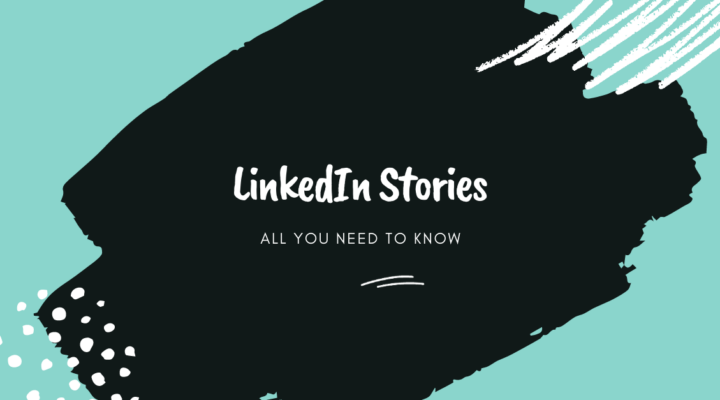 LinkedIn Stories: Everything you need to know
It took some time after the first announcement, but LinkedIn Stories are finally available worldwide! What the new LinkedIn format has to offer and what you need to pay attention to, you can find in this article.
What are LinkedIn Stories and how do they work?
How do LinkedIn Stories differ from other story formats? The LinkedIn Stories are very similar to the Instagram Stories – same principle, the stories are for example only visible for 24 hours before they dissolve again. However, there are some differences in specs and way of usage. LinkedIn Stories are not for your private moments, but for your special professional moments.
Before you start recording, make sure you are using the latest version of the LinkedIn app. As with other story formats, you can only publish Stories through the LinkedIn mobile app, not via your browser. To do this, click on the circle with your photo and the plus sign in the upper left corner of the LinkedIn app. You can now record a video or shoot a photo share it directly or upload from your gallery.
LinkedIn Story Specs
If you want to upload a video, you need to make sure, that it is captured upright and does not exceed the maximum video length of 20 seconds. LinkedIn Stories are a bit longer than on Instagram, they only last 15 seconds. When recording, the video will automatically stop after 20 seconds. Also, when uploading a pre-recorded video file, the file may not exceed 20 seconds.
To highlight your content, you can also add text, symbols or stickers to your story that fit your professional context. LinkedIn offers a range of stickers that allow you to easily select the effects that best fit your story. You can decorate your workday with stickers like "work tip", "morning routine", "out of office", "productivity hack", "just another day in the office" and many more. Additionally, LinkedIn offers the feature "question of the day". Every day linkedin inspires you to post content from your professional live asking you the question of the day, that you can answer to in your story. With the @- sign you can tag profiles of other people or companies.
Once your LinkedIn story goes live, your followers will see the story in a blue circle at the top of the home page. They can send you private messages to share their feedback on your story. LinkedIn also shows you the "Unique Viewers" for your story. If privacy settings allow it, you can even see the profession and current employer of your viewers next to their name. A swipe-up function, as already known from Instagram, is also available. There is also no possibility to place ads for LinkedIn Stories yet. But it is only a matter of time.
What do LinkedIn Stories stand for and what content should you post?
LinkedIn Stories are designed to help you share insights from your working life in a casual and creative way through professional posts with your community. This gives you the opportunity to share your experience and expertise with other LinkedIn members and build meaningful relationships within your professional community. The LinkedIn Stories are meant to represent a modern way of maintaining valuable contacts and publishing content in a professional environment. Share everyday work moments, events, projects or professional tips & tricks and industry news to encourage conversations in your community. The important thing is that you make sure that you share relevant content that are really business related. Stories about the extensive cocktail evening with your friends, other inappropriate content or constant advertising of your own products and services are definitely out of place here.
Should you also use LinkedIn Stories?
Absolutely! You might ask yourself, if it is worth the effort to invest your time on LinkedIn Stories. I definitely recommend it, because experience shows that social media platforms reward their members with additional reach if they use their new features early. So whenever you have a few minutes left in your workday, go on and try this new feature!